Life Groups exist to connect people to Jesus Christ and His Church through consistent evangelism, follow-up and fellowship…
A Word from Hunter
The Time is Now for us to evangelize Etowah County. Within a 5-mile ring that has MeadowBrook as its center there are roughly 49,000 individuals who have souls that will exist eternally either in eternal bliss in Heaven with their Creator or in eternal torment cut off completely from God. This number should humble us and motivate us to proclaim the gospel with boldness, urgency, and love, but the question is not how will the church reach the 49,000. The question is this: How will you, the church member, reach the one person in your spheres of influence who needs to hear the gospel? Each of us needs to take the responsibility given to us, the spiritually sighted, to bring the good news of salvation to those spiritually blind living in darkness, and it begins with one person.
Pastor Randy has defined evangelism recently as "sharing the good news with all people that Christ took our sin and judgment upon himself, offering people freedom from sin, death, and judgment who will receive him by faith and yield their lives to him." In this message, we communicate that "Christ Jesus came from heaven to earth, lived a sinless life, and died on a sinner's cross, bearing our sin and God's wrath against sin. Having paid the penalty of sin with his death, he was buried, but resurrected on the third day, proving to be victorious over sin and death. He ascended to Heaven to be with the Father, and will return to reward the faithful and judge sinners. He calls people to repent of their sin, believe in Jesus as God's Son who lived, died, and resurrected, and to confess him as Lord."
Will you commit to praying for and making intentional steps toward verbally sharing the above gospel message with that one person in the coming weeks?
Who is your one?
Ways you can get involved this month
Ok, so you are committed to engaging your one with the gospel message. Now where do you begin?
Without the work of the Holy Spirit in the life of an individual, one will never come to saving faith in Jesus Christ. (Matt. 19:25-26)
Father,
Please convict ______________ by your Holy Spirit of sin, righteousness, and judgment so that when I share the gospel of your Son, Jesus Christ, your Spirit testifies within ______________ of the truth of my message so that he receives your Son by faith and yields his life to Jesus' lordship. It is in Jesus' glorious name I pray, Amen.
Be bold. Fear keeps many of us from evangelism, but as Paul did, let us seek to find our boldness not in raw emotional courage or pride but in God's Spirit who lives within us so we may declare the gospel. (1 Thess. 2:2)
Take the initiative. We cannot expect the spiritually blind to seek the spiritually sighted. We need to take the initiative and in love move first. (Luke 19:10)
Be sensitive. The gospel is offensive enough, we do not need to add to it. Let your boldness be marked with sensitivity and respect toward the person with whom you speak. (1 Thess. 2:5-7)
Be patient. Just because one does not immediately respond to the gospel does not mean we write them off outright. Paul reasoned with Felix for two years about the truth of the gospel (Acts 24:26).
Invite them to one of our Easter services and follow up with them. Inviting someone to church is not evangelism but it can lead to evangelism and invites one to a place where they will hear the gospel proclaimed.
Serve Weekend
Our Life Groups and Life Group leaders stepped it up this last serve weekend and sought to make a lasting impact in our county at places we minister at as a church throughout the year.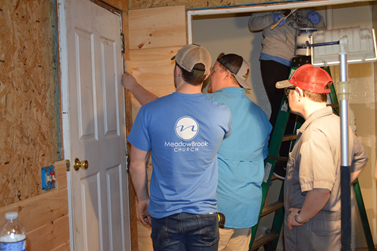 Men from the Clough Life Group remodeling a house for one of our ministry partners in caring for the fatherless, the Eagle Rock Boys Ranch.

Life Group Leaders, Josh and Jakea Player, pressure wash and serve at one of our good news schools, John Jones, with their Life Group.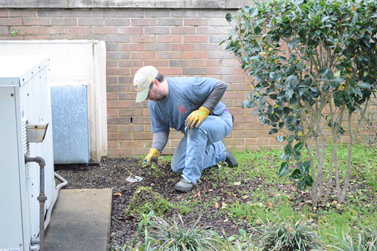 Life Group Leader, Brad Lowe and two sons (not pictured) serve at one of our good news schools, Eura Brown.