Cottage Prayer Nights
Many of our Life Groups have been gathering in homes across the community for the purpose of praying and seeking the Lord's renewal together. Hear from one of our Life Group members about what the Lord has been doing through Cottage Prayer Nights:

"The Cottage Prayer Nights have allowed our Life Group to share our desire to renew our class, our church and our lives. We've prayed together, prayed for each other, and prayed for our future. The intimacy shared in homes praying has produced a closer bond with one another." — Donice Snow, Kent Stewart's Life Group

Through their Cottage Prayer nights, their Life Group has not only grown closer to the Lord through prayer, but also to each other! It's not too late to host your first Cottage Prayer night. These last couple of weeks, consider gathering together to pray with one another.

Let's personally invite 2500 people to come with us to Worship by the end of 2020.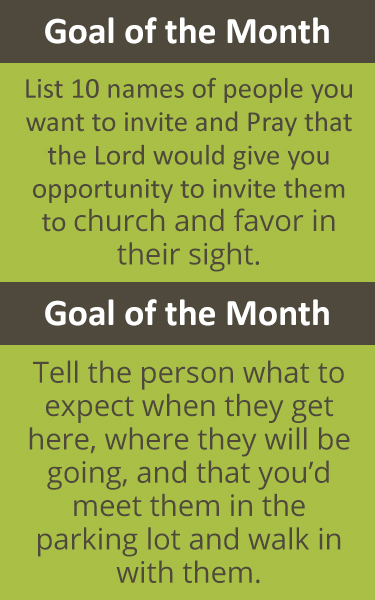 After one month of intentionally tracking invitations, our Life Group members have invited 138 people to church with them this month. That is an awesome number! That's 138 people who our church intentionally prayed for and sought to invite to church with hopes of them hearing the gospel through Randy's preaching and personal conversation or connecting to a church home that teaches the truth of God's Word.

One person invited an openly atheist friend of theirs and he came. Another was a teacher who personally invited the parents of her students—and some came that Sunday! Another invited a friend and met him in the parking lot, sitting with him in Worship and Life Group. Each of these stories represent people who our Lord loves and whom we have been charged to proclaim the good news to and disciple in the truths of our faith.

However, 138, as awesome as it is still not where we need to be to reach our goal of 2500 in 2020. So, make sure your Life Group is tracking invites and intentionally seeking out others to invite them to church.

What is a Personal Invitation?

A personal invitation is when we invite someone to come with us to Worship either face-to-face or through some other form of one-on-one, personal communication, knowing the gospel will be proclaimed in Worship and hoping it provides you the opportunity to have a gospel conversation with them. Inviting someone to church is NOT evangelism, but it can easily lead to evangelism. Our desire through this campaign is to connect people to Christ and his church.

In Christ,
Hunter Hindsman