June 2019 was UNBELIEVABLE!!!! Kidquest 2019 "The Great Adventure" was an incredible week for our kids and adults! We saw salvations, spiritual growth, and an invasion of dinosaurs!!!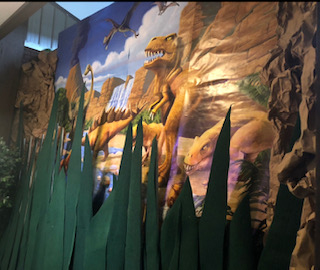 During our LifeGroup time, we have been studying the Fruit of the Spirit. I hope you will make plans to be there each Sunday at 9:30. Our verse for July is, "God began a good work in you. And I am sure that He will carry it on until it is completed. That will be on the day Christ Jesus returns." Philippians 1:6 NIrV

Kids Worship Live is going strong and is such a blast. We have been studying the 23rd Psalm and will continue til August. We plan on making a special craft to help us memorize this incredible Psalm on July 21. Please come be a part of this great and fun experience.

Please be in prayer for the 30 kids and adults going to CentriKid July 29-August 2. Pray that the kids will be open to God's movement in their hearts and lives!

If you are interested in being a part of MeadowBrook's Children's Ministry, contact Ms. Kristi at 256-504-8232 or .
By the way, Lazarus, our fish, is doing swimmingly!