We've had a great month of fellowship for our Life Groups….
Many of our groups have taken advantage of the summer months to have opportunities of fun and intentional fellowship. Dennis Daugherty and Larry Ingram gathered their Life Group together for a Fish Fry which led to some deep and meaningful conversations among the group where they were each built up in the Lord.
David and Kim Clough hosted a night at their home and pool for their Life Group where the young families they serve were able to rest, have meaningful time with their kids, as well as each other, and enjoy some good Moe's which came and set up the whole thing.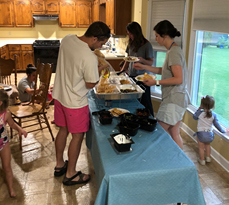 There are more groups out there that I know have been doing similar gatherings as well. It is always a beautiful expression of the Acts 2 fellowship when we gather in each others homes to break bread with one another. If you have not taken advantage of this time, July is a great month to gather together and break bread in each others' homes.
During JULY we're focusing on…
Serving together in MeadowBrook's global and local mission effort and in the ministries of the church. Life Groups that serve together stay together and grow together. There is something about linking arms with one another for the sake of the Kingdom that deepens bonds and opens doors for new people to connect to Christ and his church. So, this month seek to serve together as a Life Group.
Two ways you can engage this month…
Open Hands on Sunday July 14th at 2 PM: On this Family Worship Sunday, gather some of your families and serve together, modeling for your children what it looks like to follow Christ and serve those in our community.
Location: 173 Jester Parkway, Rainbow City, AL 35906.
Contact: Elona Morgan at .
Taking each Sunday to Pray for Our Mission Partners:


Sunday, July 14th—New Partnership in Japan
Sunday, July 21st—Latin American partnerships in Cuba, Argentina, and Costa Rica
Sunday, July 28th—African partners in Uganda and the Refugee Camps