God has given you influence with others. How can you steward that influence well for the kingdom and glory of God?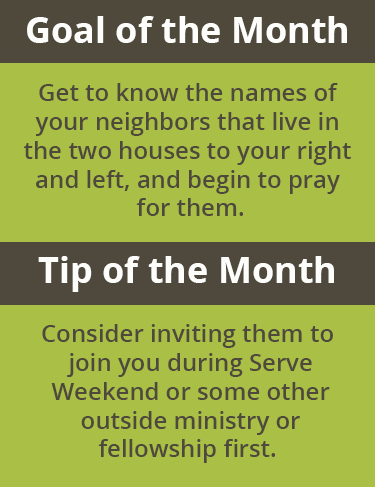 TRACKER: 244/2500
Part of our mission at MeadowBrook is to connect people to Christ through evangelism and to his local church through baptism and church membership. We do that through what we call our Connections Process. At our most recent Connections Dinner at Pastor Randy and Kay's home, two of the families who attended first connected to MeadowBrook through the personal invitation of a member. That is awesome! I was so encouraged to see God at work in that way. It is such a glorious truth that in his sovereignty, God chooses to work through us! Have you allowed him to work through you during this initiative?


What is a Personal Invitation?
A personal invitation is when we invite someone to come with us to Worship either face-to-face or through some other form of one-on-one, personal communication, knowing the gospel will be proclaimed in Worship and hoping it provides you the opportunity to have a gospel conversation with them. Inviting someone to church is NOT evangelism, but it can easily lead to evangelism. Our desire through this campaign is to connect people to Christ and his church.
Love your Neighbor Together as a Life Group This Serve Weekend!
Serve weekend is a wonderful time to come together and love our neighbor in the name of Jesus Christ. Serve weekend can also be a means to propel your Life Group to greater Kingdom Ministry and effectiveness. So, how can your Life Group make the biggest difference this Serve Weekend? Consider these three ways:
Invite prospects who are not connected to your Life Group to join you in ministry.
Treat it like a high-attendance Sunday to reconnect people who have slipped out of the rhythm of regular attendance.
Use it is an onramp for continued ministry.
Each week I am thrilled to see each of you participating in the loving fellowship centered around the Word of God. I look forward to it.
10 As each has received a gift, use it to serve one another, as good stewards of God's varied grace: 11 whoever speaks, as one who speaks oracles of God; whoever serves, as one who serves by the strength that God supplies--in order that in everything God may be glorified through Jesus Christ. To him belong glory and dominion forever and ever. Amen. (1 Peter 4:10-11 ESV)
In Christ,
Hunter Hindsman