Come on, let us get snow!!!!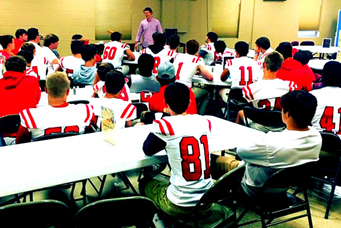 We've finally got colder temperatures! And now, I hope we get some snow this winter! October has been action-packed for sure! We got to feed and hang out with the Westbrook football team, have been growing in size and depth in the knowledge of God at MidWeek on Wednesday nights, and had a great time at Fields of Faith where we had three of our students share with their peers truth from the Word.

During the month of November,
We are beginning a new study on "Lies we believe". There are a lot of statements that we've all been told that sound really good but are actually misconceptions about us and God. We are going to look at statements like: "God will never give you more than you can handle", "Follow your heart", and "God gained another angel". We look forward to having the opportunity to walk with students through what the Bible says in relation to these common lies our culture sells them.
Three ways you can engage this month…
Clarity in Chaos Talk: Navigating the changing climate of sexuality in our culture with biblical truth (Sunday November 24th) Whether we'd like to believe it or not, the culture we live in is drastically changing when it comes to defining sexuality. We'd like to assume that our children and teenagers will turn out okay. But if parents aren't intentional about having conversations with their kids, then culture will fill the void quickly. Ricky Chelette of Living Hope Ministries is going to be with us right after the 10:45 service to help equip parents and students on how to bring clarity from the chaos of the culture surrounding us. You don't want to miss this! https://www.mbchurch.com/event/1643677-2019-11-24-clarity-in-chaos/


High School Winter Ski Retreat (Dec. 30th - Jan. 2nd / $50 Deposit due Nov. 17th): A retreat for high school students in the mountains of Ghent, WV. We will be staying a the action-packed Glade Springs Resort where there are multiple options for the non-skier! For the Skier/Snowboarder, we will be at Winterplace Ski Resort. What a great opportunity to have some fun over Winter Break and dive deeper in knowing God! https://meadowbrook.churchcenter.com/registrations/events/305969


Middle School Winter Shocco Retreat: (Dec. 27th - 28th / $25 Deposit due Nov. 17th ): Shocco Springs in the Winter has so much to offer! Paintball, Hide & Seek in the dark, Campfires, Smores....and so much more!! It will be a great time to get away and have fun while being challenged to go deeper in our walk with God. https://meadowbrook.churchcenter.com/registrations/events/306939

Call to action
If you are wanting to stay connected to all that is going on in student ministry here at Meadowbrook Students, join our Text Alert group by texting Matt at 502-649-9951. If you're interested in partnering in student ministry, you can contact Matt Fike by sending him an email at .