The Lord is My Shepherd
The Lord is my Shepherd: Part 2
1 The LORD is my shepherd; I shall not want. 2 He makes me lie down in green pastures. He leads me beside still waters. 3 He restores my soul. He leads me in paths of righteousness for his name's sake. 4 Even though I walk through the valley of the shadow of death, I will fear no evil, for you are with me; your rod and your staff, they comfort me. 5 You prepare a table before me in the presence of my enemies; you anoint my head with oil; my cup overflows. 6 Surely goodness and mercy shall follow me all the days of my life, and I shall dwell in the house of the LORD forever.(Psalm 23:1-6 ESV)
The Lord is My Shepherd
A shepherd desires rich nutritious pasture for his sheep. Jesus, the Good Shepherd, is no different. A shepherd knows that the health of his sheep is directly related to the health of the pastures they graze. Poor pastures mean weak sheep and rich pastures mean vivacious sheep.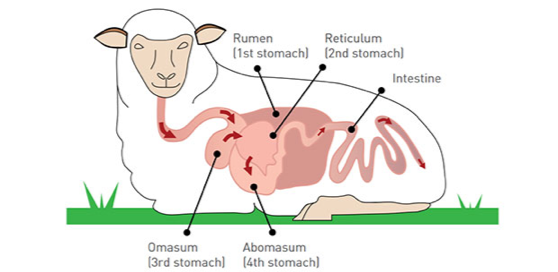 1 The LORD is my shepherd; I shall not want. 2 He makes me lie down in green pastures. He leads me beside still waters.(Psalm 23:1-2)
Trusting Christ for all that I need
We shall not want—we lack for nothing—because the Lord is our provider.
Sheep are ruminant animals.
When the psalmist says that the shepherd "makes us lie down in green pastures" he is saying that his sheep have been led to rich pastures, have eaten their fill and are lying down to rest and ruminate.
Jesus Christ provides for us in the same generous ways. He is concerned for every part of us: body, soul, and spirit (external, eternal and internal). And my God will supply every need of yours according to his riches in glory in Christ Jesus. (Philippians 4:19 ESV) God is able to make all grace abound to you, so that having all sufficiency in all things at all times, you may abound in every good work. (2 Corinthians 9:8 ESV) For the LORD God is a sun and shield; the LORD bestows favor and honor. No good thing does he withhold from those who walk uprightly.(Psalm 84:11 ESV)
Sheep lie down in green pastures because they have stood and grazed on the goodness of the shepherd, who led them to green pastures, and are full and satisfied, and resting in his blessings.
The Psalmist ruminates on the goodness of God in Psalm 100
1 Make a joyful noise to the LORD, all the earth! 2 Serve the LORD with gladness! Come into his presence with singing! 3Know that the LORD, he is God! It is he who made us, and we are his; we are his people, and the sheep of his pasture. 4 Enter his gates with thanksgiving, and his courts with praise! Give thanks to him; bless his name! 5 For the LORD is good; his steadfast love endures forever, and his faithfulness to all generations.
(Psalm 100:1-5 ESV)
Take a moment to ruminate on the Lord's goodness:
Resting and content with what I have
Sheep lie down when they're satisfied, safe, and content. Worry, anxiety, and discontent keep us from ruminating on and resting in the goodness of the Lord.
3:14 I press on toward the goal for the prize of the upward call of God in Christ Jesus. 15Let those of us who are mature think this way…. 4:4 Rejoice in the Lord always; again I will say, rejoice. 8Finally, brothers, whatever is true, whatever is honorable, whatever is just, whatever is pure, whatever is lovely, whatever is commendable, if there is any excellence, if there is anything worthy of praise, think about these things.11 …I have learned in whatever situation I am to be content. 12 I know how to be brought low, and I know how to abound. In any and every circumstance, I have learned the secret of facing plenty and hunger, abundance and need.(Philippians 3:14-15; 4:4, 8, 11-12 ESV)
While the world and its prince entice you with more and more cravings, the Holy Spirit moves you to be thankful and content for what you have. If we diminish our wants, we will heighten our joy.
Learn the practice of holy quiet rest. When will you do that this week, and what do you want that time to be like?
Fed by the Word of God and resting in his Spirit's presence
We encourage you to engage in weekly congregational worship and discussions with other believers and to have daily Bible reading and meditation.
As God's word feeds us, he refreshes us by his Spirit. Notice the integral nature of the Word of God and the Spirit of God. 10 With my whole heart I seek you; let me not wander from your commandments! 11 I have stored up your word in my heart, that I might not sin against you. 12 Blessed are you, O LORD; teach me your statutes! 18 Open my eyes, that I may behold wondrous things out of your law.(Psalm 119: 10-12, 18 ESV)
Series Information
A 6 week study on truths found in Psalms 23.